Visual Presentations Hawaii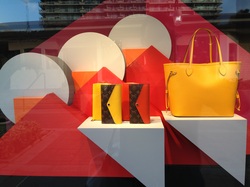 offers high visual impact and product enhancements that stimulate the retail environment. Turn on your spotlight and let us create exciting visual representations of your image and style.

Today, window-dressing receives influences from theater, opera, nature, vanguard art and is considered a discipline of commercial interior design whose goal is to set the stage and excite the consumer. We are locally owned and have been in operation since Sept. 1997., We have a combined 30 years experience in the field of visual display merchandising.

Our service includes consultations, concept, rendering, research, development, purchasing, production, design and installation, we also do image enlargements, graphics and signage in Japanese and English, Customized floral arrangements and so much more.

Kevin Asam - Creative Director
James Santos - Operations



---
---

What Is Visual Merchandising ?

Significance
Visual merchandising is an important part of product and brand management, as well as marketing. It involves attracting customers to retail stores and presenting merchandise in a manner that will appeal to consumers. Manufacturing companies invent significant resources in researching and developing products that meet consumer needs. When products are brought to market, they must be displayed effectively so that they will be noticed and purchased by target consumers.

Function
The process of determining how to merchandise products involves figuring out how to create and arrange visual displays so they are likely to appeal to customers. Professionals who understand what appeals to consumers and what types of displays are likely to induce buying behavior design and execute complex visual merchandising plans for the purpose of maximizing sales.

Types
One type of visual merchandising involves setting up visual displays in the windows of upscale retail establishments. This type of merchandising is usually carried out by store employees, who select products to feature and then design themed displays around the chosen items. The idea behind this type of merchandising is to increase traffic to the store and to promote sales. Visual merchandising also involves arranging and keeping shelf and hanging rack displays full and in good order. Many manufacturers employ merchandising contractors to set up and maintain their product displays in department stores. Realizing that stores are concerned with overall sales, companies that want to maximize sales of their own product lines recognize the benefits of having merchandisers who work specifically with their product lines.

Time Frame
Maintaining effective visual merchandising is an ongoing process. It's important to update product displays regularly. Consumer behavior and product needs change with the seasons, so displays need to change several times each year. When new products are shipped to retailers, manufacturers and merchandising contractors also send detailed diagrams that show how the displays should be set up. These diagrams are called plan-o-grams, and they show where and how merchandise should be arranged.

Considerations
When deciding how to merchandise products, it's important to consider how potential customers respond to the visual elements of displays. For example, it's important not to crowd too many items onto shelves or hooks. It's also necessary to keep like items together, arranging colors so that the light colors are on the left side of the display with darker colors on the opposite side.


---
Angelo

Visual merchandising is not a science; there are no absolute rules. It is more like an art in the sense that there are implicit rules but that these also exist to be broken for striking effects. The main principle of visual merchandising is that it is intended to increase sales, which is not the case with a "real" art.
Visual merchandising is one of the final stages in trying to set out a store in a way that customers will find attractive and appealing and it should follow and reflect the principles that underpin the store's image. Visual merchandising is the way one displays 'goods for sale' in the most attractive manner with the end purpose of making a sale. "If it does not sell, it is not visual merchandising."

Especially in today's challenging economy, people may avoid designers / visual merchandisers because they fear unmanageable costs. But in reality, visual merchandisers can help economise by avoiding costly mistakes. With guidance of a professional, retailer can eliminate errors, saving time and money. It is important to understand that the visual merchandiser is there, not to impose ideas, but to help clients articulate their own personal style.

Visual merchandising is the art of implementing effective design ideas to increase store traffic and sales volume. VM is an art and science of displaying merchandise to enable maximum sale. VM is a tool to achieve sales and targets, a tool to enhance merchandise on the floor, and a mechanism to communicate to a customer and influence his decision to buy. VM uses season based displays to introduce new arrivals to customers, and thus increase conversions through a planned and systematic approach by displaying stocks available.

Recently visual merchandising has gained in importance as a quick and cost effective way to revamp retail stores.


---
Letters Of Reference
"click image to enlarge"
---
---
Contact Us


Visual Presentations Hawaii
Honolulu, Hawaii 96813
Email: display@vph808.com